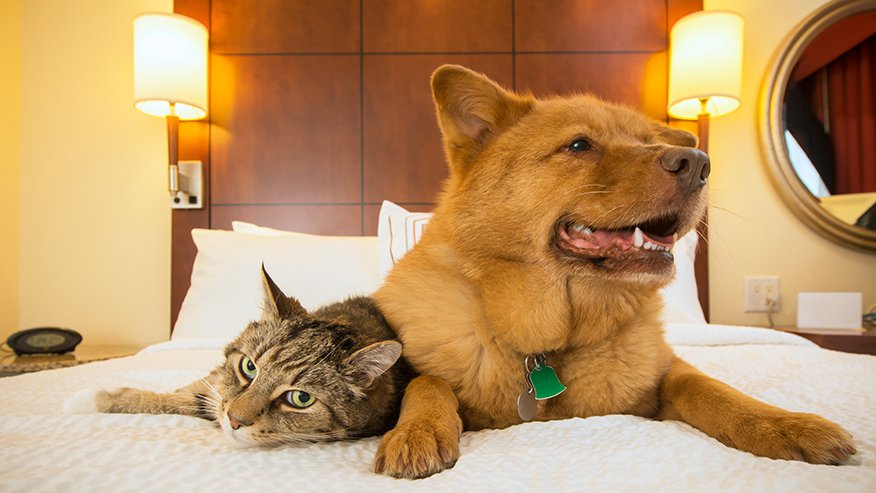 Boarding Policy Form (Step 1)             Boarding Admission Form (Step 2)
Headed out of town and can't bring your furry family companion? Ease your concerns when you board him or her with us. We provide a "home away from home" atmosphere in a safe, clean, and comfortable environment with veterinarian supervision for your pet(s). Our experienced and compassionate team will shower your pet with attention and affection while you're away.
We provide clean bedding, food and water bowls, extra treats, and lots of love. Feel free to bring anything from home that will help your pet feel comfortable while you are away.  All pets are kept inside a climate controlled building and walked four times per day.
Does your pet have special needs, health issues or medication? We understand that each pet is unique and we will provide the highest quality of care for them and their needs. Our trained staff will administer any needed medication and follow your pet's feeding routine. We provide a high-quality diet and treats at no extra charge. If your pet(s) are on a veterinary diet for specific reasons; we ask that you bring that food to feed during their boarding stay. We do not give pets items to chew on such as: antlers, rawhides, etc. due to the choking hazards.
Do you want your pet(s) to go home smelling amazing? Ask about our bathing services.
The Benefits of Boarding at a Veterinary Facility
When you choose to board with us, you have the added benefit of knowing that our medical team is always nearby. Our trained kennel team diligently monitors our boarding facility. One of our doctors will promptly attend to your pet if he/she needs medical treatment during their stay.
Boarding Requirements
In order to keep all of our patients and fellow boarders as healthy as possible, we require all pets staying in our boarding facility to be current on the following:
Dogs- Rabies, Bordetella, and DALPP (Distemper-Adenvoirus-Leptospirosis-Parvo-Parainfluenza) vaccines and a negative intestinal parasite screening within the year. We highly recommend, but do not require, the Influenza (H3N2/H3N8) combo vaccine.
Cats – Rabies and FVRCP vaccine and a negative intestinal parasite screening within the year. The Felv (Leukemia) vaccine is only required if your cat(s) go outdoors.
Call to schedule a tour of our facilities anytime during our normal business hours. We welcome any questions about our boarding facilities and vaccination policies.