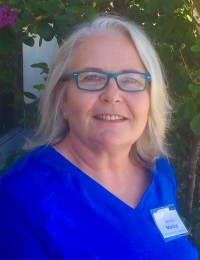 When the opportunity arose in the Fall of 2016 to join Buttercup, I didn't hesitate to move to the Austin area. I found a lovely home in the beautiful Hill Country in which I share it with an Irish Wolfhound named Bandit and Smudge the Cat. I have recently added 2 Scottish Highland calves to the family. In my spare time, I love going on long walk with my dogs and observing the native wildlife. I am also an avid reader and find enjoyment in crafting and quilting.
Originally, I am from Sweden and have lived in several different countries and speak 5 languages. (German, Dutch, Swedish, French and English) I lived in Saudi Arabia for many years, prior to moving to the US, where my son was born. He has recently joined the US Navy, making me a very proud mom!
Working at the front desk is a wonderful job that allows me to interact with our clients. The highlight of my day is the chance to love on all the "fur babies" that come in to see us. I feel truly privileged to be working with such an amazing team of supportive and caring people.