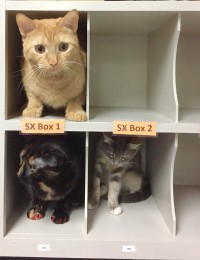 I am the superstar of Buttercup Veterinary Hospital. I provide all team members with careful screening. I promise that they have all gone through rigorous testing, interviews and mental acuity evaluations prior to being considered for one of Buttercup's highly coveted positions. I don't allow just anyone to cater to my needs.
Biscuit (orange tabby): When I found myself at Buttercup, I was paralyzed in my back legs. The reality of my injury was that I needed an enormous amount of care, possible surgery with no guarantee of a normal life. The doctors were willing to try everything within their power to increase my chances of walking again. So my family made the difficult decision to surrender me to their care because they wanted me to have the opportunity. I had the best doctors on my case! I received countless laser treatments, acupuncture sessions and medications (yuck!). The team was dedicated to my recovery! At first I was sitting which progressed quickly to supporting my body with my back legs. Before I knew it, I was taking steps to my freedom. Now, I can tear around the hospital like nothing ever happened! The team didn't let me leave Buttercup, and now I love spending my time watching the birds, chasing the laser pointer and cuddling with Scarlett.
P.S. the other kitties debut in my picture is Scarlett & Squish.
Connect with me