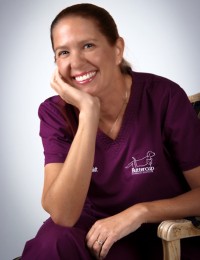 Dr. Schmidt grew up in Illinois and has always loved being around animals.  For school science projects, she did research on animal nutrition and husbandry – she raised many litters of gerbils and kept chicken eggs in a homemade incubator until they hatched into chicks – all in her bedroom.  Her love for science and mathematics led her to the University of Iowa to study as a pre-medical student, with plans to become a pediatrician.  A series of events while at the University of Iowa led her to change her career choice to veterinary medicine – she met her spouse, volunteered at a veterinary hospital and loved the experience, did research on tadpoles in the Biology building, and realized that she wanted to work with animals and people.  Her husband had always planned on moving to a location where palm trees could grow, so Texas was a great fit for both veterinary school and married life.
She graduated from Texas A & M University in 1997 and while in her 4th year, she completed a 1 month externship here at Buttercup.  Soon after graduation, she started here as a full time veterinarian and in the last few years, has become part time as children have been added to the family.  She loves working with dogs and cats and getting to know their owners, many that are now second generation.  Her veterinary interests include senior medicine and wellness care.
Her husband, Darren, and her two sons  share their  household with a rescued Golden Retriever and a Lab/pit puppy.  She has lived in Cedar Park for over 20 years and loves the community. Her family enjoys traveling – San Antonio and Port Aransas are favorite locations.  She enjoys reading, trying out new recipes, and gardening  but her favorite activity is spending time with her children.
Education:
Texas A & M University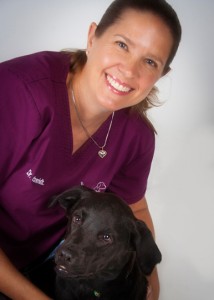 Dr. Schmidt with her new rescue puppy, Topaz.